So, another Free Comic Book Day has come and gone. My youngest daughter, Dandelion and I got up early, walked to the bus stop and managed to get to the front of the store by 7:30. Figuring we would be first we rounded the corner to Fanfare…
And there was the tent. A tent! We had never encountered a tent in the years of going to Free Comic Book Day. It wasn't so bad. We got some coffee and breakfast sandwiches from the local gas station. My buddy Stew Miller showed up and later we spotted by son, Seann with my daughter in law, Tabbie and my grandson Willie. Neil Bryer also showed up and we all just hung out while the staff trickled into the building.
Then it was time to go in and get our comics. I had some I knew I needed and others I just was going to peruse. Here are the comics I got and what I think of them.
Future's End #0 (DC Comics)
Written by Brian Azzarello, Jeff Lemire, Keith Giffen, & Dan Jurgens
Art by Aaron Lopresti, Patrick Zircher, Jesus Merino & Dan Jugens
DC's new event comic is a weekly comic that will run for a little less than a year. It starts 35 years in the future when Brother Eye is destroying mankind and only Batman Beyond, yeah from the cartoon, can travel back in time to save us all.
One problem;
He shows up five years too late and still has to get the job done.
The major players in this comic are Frankenstein, Batman Beyond and OMAC. I like two out of three of those so I was excited to get this zero issue that starts the whole thing off.
Then I read it.
Yeah, I didn't like when Marvel did Age of Ultron and that's all this really is only stretched out into a weekly series. I'm not paying over a hundred and fifty bucks for a story that was tired before it began. At least Age of Ultron only ran for a few issues before it was over and didn't matter. When will comic companies realize that the whole go back in time to stop the future storyline has been done…repeatedly? At least I got the first issue for free so there was no wasted money.
Shigeru Mizuki's Showa A History of Japan
Told in Manga style this is the author's autobiographical tale of being in the Japanese army. It's interesting in that the author draws himself very cartoony, but there is some seriously photo realistic artwork in here as well. I would read this entire series. Maybe since I'm saving so much money on DC Future's End I can get this instead.
Red Giant's Duel Identity/Pandora's Blog
This is one of those flip books that is so popular during Free Comic Book Day. Duel Identity deals with a super heroine with nano technology who also works undercover assassinating who she's told to. Kinda weird behavior for a supposed super heroine. Pandora's Blog is, well I have no idea what this is supposed to be about. Some sick kid who turns into a stone gargoyle at the end. IS this a horror comic or what? It seems rushed and confused.
I personally, have never heard of Red Giant comics, but if this is what they have to offer I doubt I will be making a return trip. Also, the books are smaller than normal and that seems weird to me.
Archaia Presents Mouse Guard
This little hardcover book is the reason I make sure that I am first, or because of the damned tent, second every year for Free Comic Book Day. That's right, it is a hardcover comic book and it has little stories from all of the titles that Archaia prints.
They are;
Mouse Guard by David Petersen
Rust by Royden Lepp
Labyrinth Written by Adam Smith and Illustrated by Kyla Vanderklugt
Bolivar by Sean Rubin
Will O The Wisp Written by Tom Hammock Illustrated by Megan Hutchinson
Farscape by Ramon K Perez
Of the batch the Mouse Guard story, Tale of the Axe Trio is the best with a close second of a tale of Ludo in the Labyrin
th story. Rust, which I have read seems like it brings nothing to the table regardless of how pretty it is. The entire book is gorgeous and deserves a place on any book shelf. I hope they make these every year.
They also gave us cool Space Marine figures from Warhammer 40K which I have assembled and they have taken up space on my desk at work. Very cool.
There were also some temporary tattoos that I will keep and a sticker that now lives on the backside of my laptop.
Now, not being a leech I also use that day to pick up some of the new comics I always get. I have discovered that if my oldest daughter, Delia and my lovely wife, Martha are going to be fans of Moon Knight and Silver Surfer that I will have to start having a pull list for them. Luckily, my comics are always on the rack so let's review those shall we?
All New Invaders #3 & 4
Written by James Robinson
Illustrated by Steve Pugh
This is classic Invaders in the here and now. Captain America, The original Human Torch and Sub Mariner. They throw in Winter Soldier because he used to be Bucky and they have a severe Kree problem. See there's this device called The God's Whisper that allows a person to control Gods. The Invaders took it away from the Nazis back in World War 2 and now the Kree have it. The Supreme Intelligence has plans for dominating the universe and will stop at nothing. To get to Hala, the Kree homeworld, they employ the teleportation powers of Aarkus, the original Vision to get them there.
This is wonderful storytelling at its finest. I have been led to understand that Mr. Robinson does a great job with comics, Starman is the one that most people bring up. I honestly haven't read those and have no desire to, but if it's good enough for everyone else then I'm glad he's taking the time to craft a well done tale with one of my favorite super hero teams. I'm glad to see one of my favorite teams getting the respect they deserve in the modern age of Marvel. Also, the covers by artist Mukesh Singh are all poster worthy. It makes me happy that one team book is going the way that I want it to.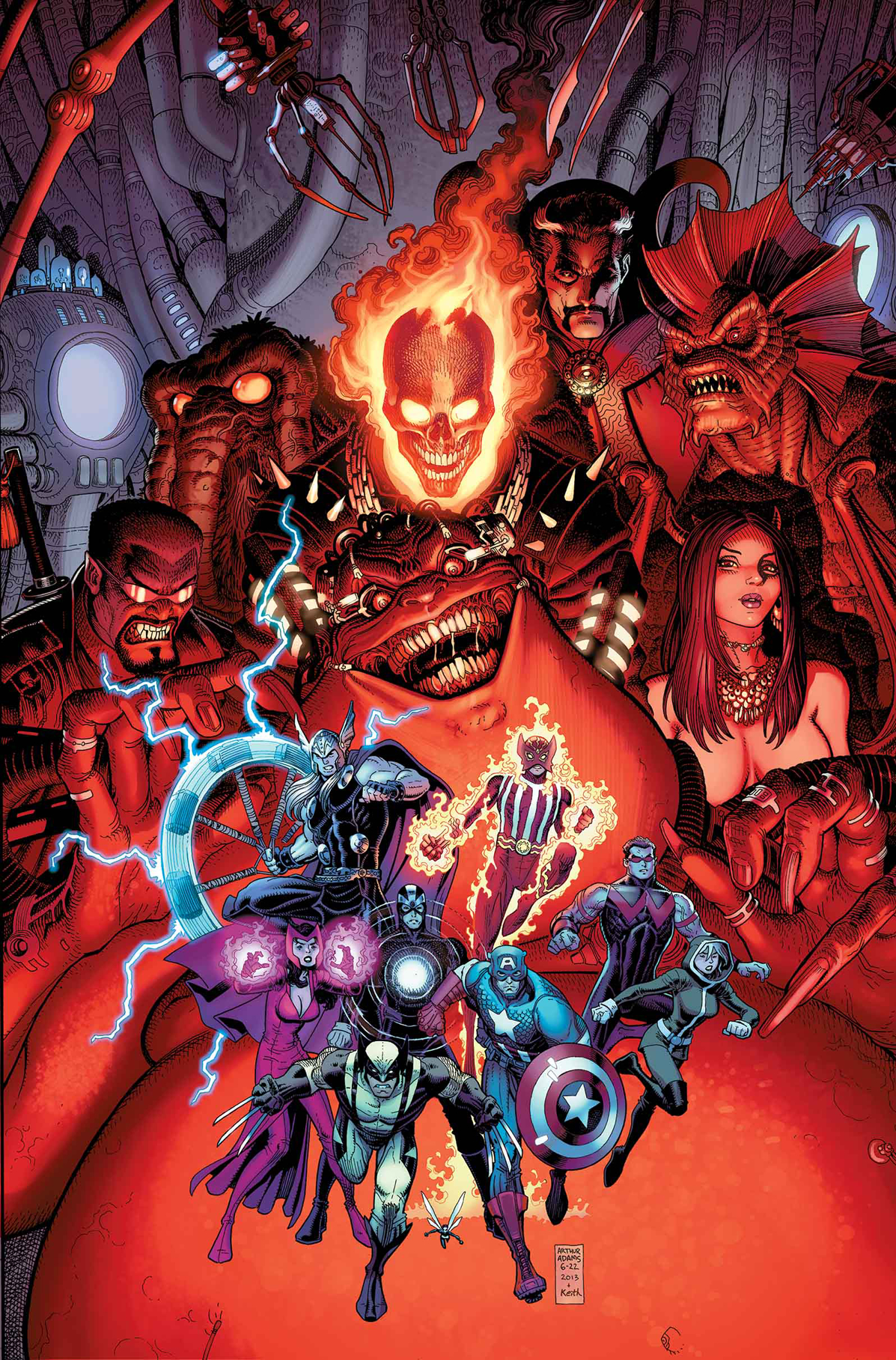 Uncanny Avengers Annual #1
I know, I know. I said I quit buying this book and that is a true statement. Annuals rarely, if ever, have anything to do with a running storyline and this annual is no exception. Besides, The Arthur Adams cover alone is worth the five bucks and it's got Man-Thing in it.
Man-Thing.
Unfortunately, it seems that the book deals with Mojo, who usually bothers the X-Men. Being that the Uncanny team has a lot of mutants in its roster that makes perfect sense, but I don't like Mojo. Never have. He is pitching a new show to the people in charge called The Supernatural Avengers with Marvel's line up of supernatural characters.
Sounds cool.
Then it spins off into some high school TV drama and it gets stupid.
Ah well, at least I have that really cool cover. I can bag the comic and hang it on the wall. That would be cool.
I am so glad I stopped buying this book.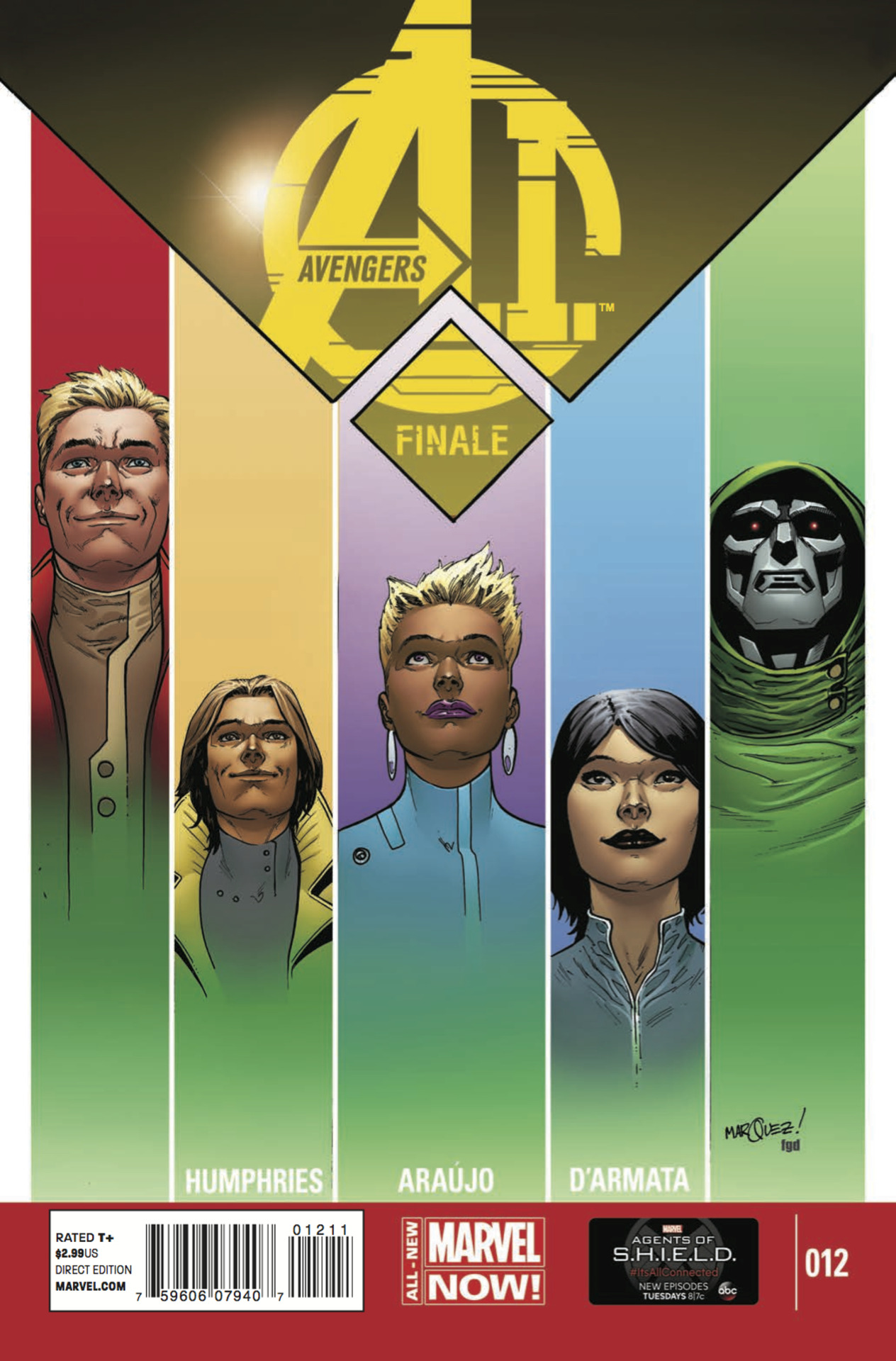 Avengers A.I. #12
This is my sad review of the column. I was so excited to see this book on the shelf as it is my favorite Avengers comic being created right now.
The cover said Finale.
I hope that it was the finale to the current storyline and it was, but it was more than that.
It is the last issue of this series and that makes me sad.
No more Doombot? I love Doombot, how can they take him away from me like that? I do hope that the members of the team become incorporated elsewhere. I would buy that book.
The story? Yeah, they win. The Avengers always win no matter what and it wraps it up pretty cool and weird, just like the book has always done.
This sucks.
That's it for Free Comic Book Day. The good, the bad, the suck. All wrapped up in a pretty bow.
In two weeks I will be attending Motor City Comic Con so I will file a report shortly after that. With pictures.
Seeya!